PVA 20-Year Celebration Retreat
Let's Party January 21 – 27, 2024
Dear PVA Community,
My baby, Pura Vida Adventures, is turning 20 in January 2024. YES! I am so darn proud of this accomplishment that I want to celebrate this achievement with all of you.
Come join me and the PVA community for a week that you won't forget: gratitude, celebration, togetherness, and of course tons of SURFING. Get ready to party the week away Tierza style. It is going to be off the charts.
When: January 21 – 27, 2024
Where: PVA's retreat hotel Tropical Latino (been together 15 years)
Why: If PVA has touched your heart, we would love for you to celebrate with us.
Details: It is going to be like a regular surf camp week, but with more parties, more surfing, and just more of everything Pura Vida!
RSVP: ASAP, the hotel isn't that big! See details on how to sign up below.
Pura Vida,
Tierza
The birth of PVA
In 2002 I was traveling through Costa Rica and fell in love with surfing and a quaint village called Malpais. I cried when we left Malpais to explore the rest of Central America, and that is when I decided that I wanted to start a surfing business there. Throughout the next 6 months, I started dreaming up my vision of this business. It was exciting to talk about this dream over drinks with fellow travelers and start scheming up ideas. At this moment when it was only a dream, I would have never thought that this business would become my identity, my reality, and my life. I put that dream into action in 2004 and Pura Vida Adventures was born. After 19 years that dream is still alive!
I am truly proud that this business has become more than my baby, it has become people's sanctuary, transformation, community and passion. It has become a week of togetherness and adventure in mind, body and spirit. PVA has taken on its own soul, pulse and vibe. This is due to all the amazing people who have been part of the PVA team and the guests who have come to experience this awesome adventure with us.
Please click here for the full story.
20-Year Anniversary Retreat Packages
Anniversary Retreat Rates
| | | |
| --- | --- | --- |
| ACCOMMODATION TYPE | REGULAR RATES | PVA ALUMNI RATE |
| Shared Accommodation >> | $3995 | $3795 |
| Private Accommodation with Shared Bath >> | $4195 | $3995 |
| Private Accommodation with Private Bath >> | $4895 | $4695 |
Shared Accommodation
Shared Accommodation >>
| | |
| --- | --- |
| Regular Rates | PVA Alumni Rate |
| $3995 | $3795 |
Private Accommodation with Shared Bath
Private Accommodation with Shared Bath >>
| | |
| --- | --- |
| Regular Rates | PVA Alumni Rate |
| $4195 | $3995 |
Private Accommodation with Private Bath
Private Accommodation with Private Bath >>
| | |
| --- | --- |
| Regular Rates | PVA Alumni Rate |
| $4895 | $4695 |
*Rates are per person. Rates are in USD. Taxes are included. Early bird discount is included.
Group Discounts!
Have a group of 3 or more? Please contact us for special rates.
Anniversary Camp
Tour Type:
Week-long retreat
$3,795.00 – $5,095.00

ACCOMMODATIONS, SPA, AND DINING DETAILS
From our ocean-front beach bungalows to the world-class Tropico Latino spa to the delicious meals prepared by renowned Costa Rican chef Randy Siles, everything at our surf and yoga retreats is designed with "Pura Vida" (the joy of life) in mind.
"Thank you so much for a remarkable & eye opening surfing experience. I'm very impressed by the instructors who were friendly & helpful and the awesome food & amenities. You've got the right idea and Pura Vida has hit the sweet spot.  Namaste/Kawabunga!"

Morgan Manser – Nashville, TN
A Day's Itinerary for our Costa Rica Surf Vacations
Participate in daily surf and yoga, jump into other adventurous activities, or spend your entire trip relaxing at the spa…it's up to you!
Morning
Beachside yoga class to start the day energized!
Fresh buffet breakfast with fruit smoothies and local faves
Daily expert surf instruction with our awesome team
Excursions to different beaches and surf breaks
Afternoon
Healthy and delicious lunch
Relaxation – poolside, hammock, siesta and/or scheduled massage
Walk on the beach, visit tidepools, or buy souvenirs/explore in town
Optional Sunset Surf Session (depending on surf conditions)
Evening
Nightly outings at our favorite restaurants
Infinity pool cocktails
Dancing at the local hotspot
Occasional rejuvenating/restorative yoga classes
Costa Rica is a paradise playground! We happily help our clients find ALL the adventure they're looking for.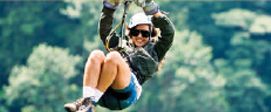 ZIPLINING
Fly through the forest canopy over creeks and canyons with amazing vistas and panoramic views of the jungle and the Pacific Ocean below.
HORSEBACK RIDING
Giddy up! Gallop on horseback along the shore at sunset and visit other gorgeous beaches with expert local guides.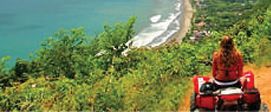 ATV TOUR
Explore the Costa Rican countryside, other villages and the breathtaking beaches in the area. An exhilarating adventure that will make you fall in love with Costa Rica.
HIKING
Fall in love with the peaceful nature and animal life that has made Costa Rica a dream destination. Take a guided or unguided hike through the country's first nature reserve, Cabo Blanco.
"I can't imagine anything better than spending a week away, getting incredible instruction and meeting great new friends. Thank you for such an amazing experience."