Expert Surf Lessons, for Any Level

Since 2004, Pura Vida Adventures has been the gold standard for helping students of all levels excel at the empowering, incredible sport of surfing.
Our all-inclusive surf retreats offer hands-on, highly specialized surf instruction for ALL students–no matter the age, skill level, or athletic ability.
Surfing is for everyone!
We offer carefully curated lessons for each individual, to help beginner, intermediate, and advanced surfers achieve ultimate success in the waves.
Whether you want to:
feel more comfortable in the water
challenge yourself at a brand new sport
master advanced techniques you've been struggling with
gain confidence at varied surf breaks
transition to different board shapes and sizes
learn the know-how to take surf trips on your own or with friends
or simply have the most FUN possible in the water
our surf retreats will do just that. . . and MORE.
Our Comprehensive Surf Method
At Pura Vida Adventures, we pride ourselves on our caring, cohesive, and expert instruction. Our retreats are the place to come to when you don't just want to take surf lessons–you want to become a SURFER.
With a range of different beaches to choose from, Santa Teresa is the perfect spot for beginners to surf for the first time, or for intermediate and advanced students who want to put the 'wow' into their waves.  
Our coaching program is structured and technical, where everything is broken down into easy to understand body mechanics and drills.
With video analysis, beach-based theory sessions, constant in-water feedback, goal-setting, and plenty of practice time, you'll quickly gain competence, confidence, and skill at this incredible sport.
The right coach makes all the difference and we've handpicked the best! With our highly trained surf instructors and a no more than 3 to 1 student-to-teacher ratio, you'll get the top-level attention you deserve.
Our surf instructors are CPR, first-aid, and Lifeguard certified, and hold the highest level of ISA surf-instruction certification. They are passionate about surfing, love getting into the nitty-gritty of surf technique, and (bonus!) super fun people in AND out of the water.
Going beyond the "push-and-stand" focus of other schools, our program is an immersive experience that gives you the specific guidance and instruction needed to be the best surfer you can be!
"Not only for beginners, PVA is a great place for any surfer to safely expand their comfort zone, push themselves and improve their surfing. The instructors offered me tips and pointers on wave after wave, I was able to ride some of the best waves of my life. Each wave felt like a private lesson, even though I was not the only student in the water. It takes great skill to teach and communicate in the water, and PVA's instructors have what it takes!"

Mary – San Francisco, CA
Safety and Stoke
Our goal during each surf and yoga retreat is to give the absolute best instruction, care, and safety possible–turning women into super stoked and self-sufficient surfers.  Safety is our top priority (with fun and stoke a close second).
With many of our guests being beginners, our patient staff will teach you the basics of surfing:  how to pop up, stance, paddle techniques, etiquette, water safety, wave selection, the 'flying push up', turtle rolls, sitting on the board, acceleration and deceleration, turns, angled take offs and cutbacks.
Our instructors will develop a custom plan to address any problem areas, concerns, or struggles you may face, and help you find the right technique for your body type and fitness level.
Our coaching program is thorough, detailed, and comprehensive–no guesswork for our clients about what technique is best! We offer students of ALL levels video analysis, beach-based theory lessons, and continual in-water feedback to make sure each individual beginner surfer has a comprehensive foundation of surf skills.
At the end of the week, you will have the experience, knowledge, and confidence to continue to grow your love of the water–no matter where you surf!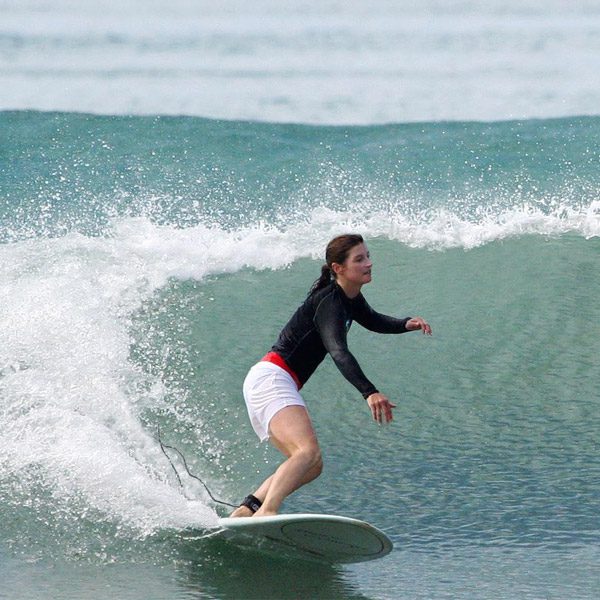 Stepping up your game
At Pura Vida Adventures we know that mastering surfing is a life-long journey, and we have clients who come to our surf camp every year because of our expert instruction!
As an intermediate or advanced student, your instructor will assess your skill level and implement a progressive program to strengthen your surfing game. We'll focus on wave-reading, catching more waves, angled takeoffs, 6 steps to having the best cutback on the beach, the need for speed, floaters, bottom turns, top turns, steeper drops, overcoming fear, how to put some 'wow' into your surfing,  and how to win surf contests.  This course is great for surfers who want that extra hands-on guidance to break through any plateaus they may have reached in their surfing.
Depending on conditions we will either surf a world-class beach break in front of the hotel, or hop in the van and drive to one of the nearby point breaks to work on angled take-offs, speed creation, confidence in the line-up, and more advanced maneuvers.
Your instructor will also provide video coaching so you can see your waves, get specific feedback, and address techniques in detail to improve your surfing by leaps and bounds!
Going above and beyond other surf schools, we provide detailed video coaching of specific surf sessions for ALL levels–so beginner to advanced students can SEE (and get critical advice about) how to make huge improvements in their surf technique!
With over 35 surfboards to choose from, there is certainly something for everyone. We have a wide range of high-quality equipment including "SoftTops",  high-performance longboards, fun-shapes, fishes, and short-boards. Everyone will have the opportunity to try different boards as they progress throughout the week.
At PVA we take pride in our small instructor-to-student ratio. We also go the extra mile for hands-on learners by offering concentrated one-on-one sessions throughout the week for you to get extra-focused guidance, encouragement, and help as you improve your surfing.
Become a stronger paddler, perfect your shortboard duck dive, or simply feel more confident on the surfboard at our Paddle School! We designed this curriculum to give you ALL the tips, tricks, and techniques you need to master turtle rolls, duck diving, turning, paddling, open-water maneuvers, safety, strength, and more.
Getting Started Surf Videos
Our head surf instructor, Helen, has put together a series of "Learn to Surf" videos to help prepare you for surf camp. Subscribe to our Youtube Channel to see all our latest videos!
The Pop Up
So let's start with the most important maneuver – the pop up. Get the technique right and you'll be charging on the waves faster than you can say "Surfin' Safari."
Surfing Stance
Next, you want to make sure that you've got a GREAT surfing stance.  In this video, Helen stresses the importance of keeping your "cherries in your basket."
Paddling
The final installment in perfecting your surf basics is everyone's favorite – paddling. Remember that paddling is your passport to better waves, and good technique beats muscle power ANY day.
Sign Up for Updates, Surf Tips and Discounts!